Chicken/Tk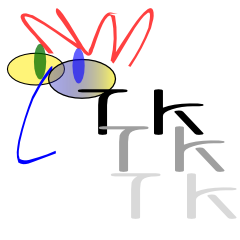 Nichts gegen Tcl/Tk, aber von Lisp aus programmiert machen die Widgets womöglich noch mehr Spaß.
Felix L. Winkelmanns Chicken ist ein technisch äußerst interessanter Scheme-Compiler. Ab sofort hat er eine Schnittstelle zu Tk. Mit Dokumentation für Tk-Neulinge.
Lizenzbedingungen: Bremer Lizenz
---
Don't mind against Tcl/Tk, but when programmed by Lisp, the widgets are possibly even more fun.
Felix L. Winkelmann's Chicken is a Scheme compiler with very interesting technical aspects. From now on, it has an interface to Tk. With documentation for newbies to Tk.
Licence conditions: Bremer Lizenz (German)
---
Sämtliche Software steht beim One-Click-Hoster zum Download zur Verfügung. Bei Fragen bitte kurze Email an mich.
11.3.2022